The February 2, 2021 [1.174] release brings with it enhancements, performance improvements, and fixes. A lot of the work this release is behind the scenes to improve functionality, responsiveness and performance. Below are just some of the updates to the Fusebill February 2 release.
Featured Highlights
Accounts Receivable Aging Report Enhancements
The report has been refreshed to provide a clean new summary display of customers. The report provides columns for different aging terms. In addition, clicking on the + icon offers the ability to drill down in an accordion grid to view the details of the invoice and payments applied to a particular customer.
These enhancements increase collection assurance by providing a comprehensive view of customers with aging unpaid invoices.
The improved visualization allows agents to quickly identify customers with aging invoices without having to search an individual customer and their invoices.
The new UI allows for additional sorting and in general, provides a UI that more closely resembles what a billing clerk would require to quickly address and action issues.
To view the report, from Fusebill, click Invoices> Invoice Aging.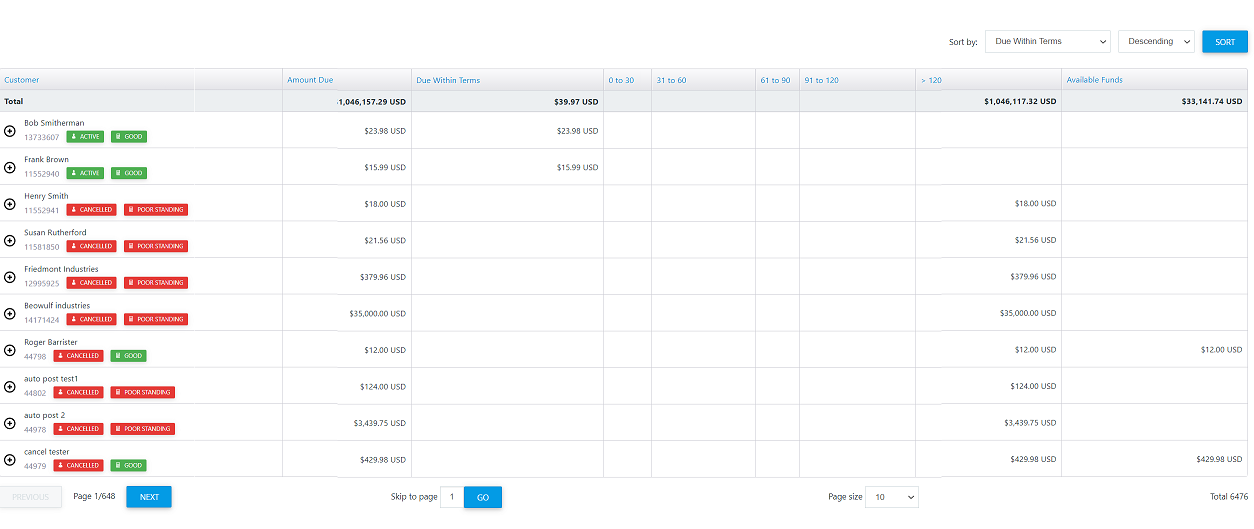 Note: Hovering over the customer name allows you to click directly to the customer page.
Enhancements
CSV Export has been redesigned to provide additional customer and invoice level detail. The export now contains additional fields for added focus, clarity, and readability. When generating the report, a new option to select details provides additional information about the individual customer invoices.
This new design supports and mirrors the new Invoice Aging report modal.
One-Time Use Credit Card Payment
One-time use credit cards are now supported for use for payments. This allows clients to use customer credit cards that will not be stored in the system after the payment is made.
This allows end customers to use a credit card or one-time payment method without the concern about the payment method being stored. This can save the agent time where in the past they would need to manually delete the payment method.
To support one-time-use payment methods, no validation is sent before the actual payment.
The jobs landing page UI has been improved to include export, import, and schedule listed. In addition, the breadcrumbs for Jobs has been improved.
Improved navigation and breadcrumbs for a more efficient user experience.
Bug Fixes
The following issues have been resolved:
Fixed Sales by Product report quantity counts when discounts are used.
NetSuite: Fixed the Update Payment Event to support reallocation on historical invoices.
Improved support for states in Argentina, Brazil, and Venezuela.
Bin settings are now optional when creating purchases.
The ability to manage individual line items has been fixed on the Salesforce Subscription Details page.