Customer Accounting
This section of the customer dashboard contains the information that shows the customer's current financial standing. This information can be used to quickly identify if the customer owes money or has money on deposit. In addition, it shows pending charges, available funds and summarized customer life-cycle information.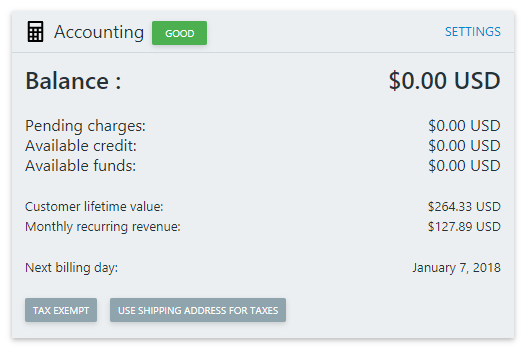 The Customer Accounting box is composed of the following:
Accounting Status – Good or Poor Standing. Identifies whether any invoices are overdue on the customer and whether the customer is subject to the grace period before being suspended.
Balance – The account receivable balance of the customer. This number represents the amount owed or on deposit for the customer entity.
Pending Charges – the sum of any draft invoices on the customer that have not yet been posted.
Available Credit – the sum amount of all unallocated credits on the customer
Available funds – the sum amount of all unallocated payments on the customer
Customer Lifetime Value – the amount of revenue recorded on this customer since customer creation. Note that the starting point for this counter can be set by entering an acquisition cost value.
Monthly Recurring Revenue – the MRR value of all subscriptions to the customer.
Next Billing Day – The next time that this customer will have a subscription recharged through the billing run.
Tax Exemption - a tag will be shown if the customer is currently flagged for tax exemption
Shipping address used for taxes - a tag will be shown if the customer is configured to have a shipping address used when calculating tax.
Settings
You can manage taxation settings and Customer Starting Acquisition Cost values from the Settings option on the Customer Accounting Box.