Stax Bill provides a Transparent Redirect endpoint that can be used to capture customer credit card information securely. If you use Transparent Redirect, the payment information from the customer's browser session is submitted directly to Stax Bill, bypassing your servers entirely. There are a couple of advantages to this:
The customer remains within the scope of your customized website or portal throughout the transaction. This gives you control over the look and feel of the entire customer experience.

Payment (credit card) information never touches your servers, reducing your PCI compliance burden.
Stax Bill supports basic Transparent Redirect and Transparent Redirect using an AJAX call.
To obtain the API Key required for the transparent redirect call, navigate to Settings >Integrations >Transparent Redirect.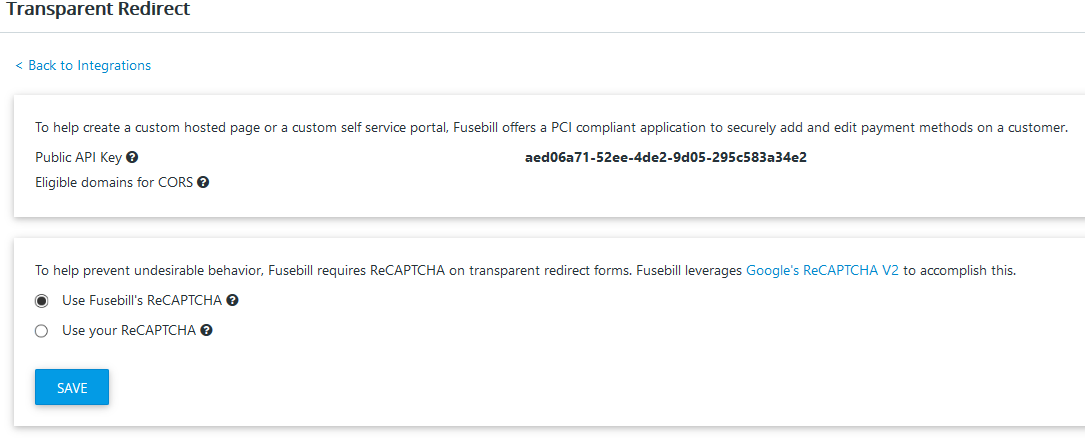 You will need to have the domain your payment method submission page is hosted on whitelisted. This is especially true with the AJAX-based redirect. To whitelist the domains, please contact Stax Bill support or your implementation specialist with the domain, subdomain, and whether it is HTTP or HTTPS. Wildcards such as
https://*.example.com
are not supported, and subdomains must be specifically listed to be eligible for CORS use.
Stax Bill requires reCAPTCHA on transparent redirect forms. ReCAPTCHA is a free service from Google that helps protect websites from spam and abuse by testing whether the user is a human or a "bot" (or malicious software). You can use Stax Bill's reCAPTCHA or your reCAPTCHA account.
For more information about Basic Transparent Redirect and AJAX Transparent Redirect see the Stax Bill Developer documentation.